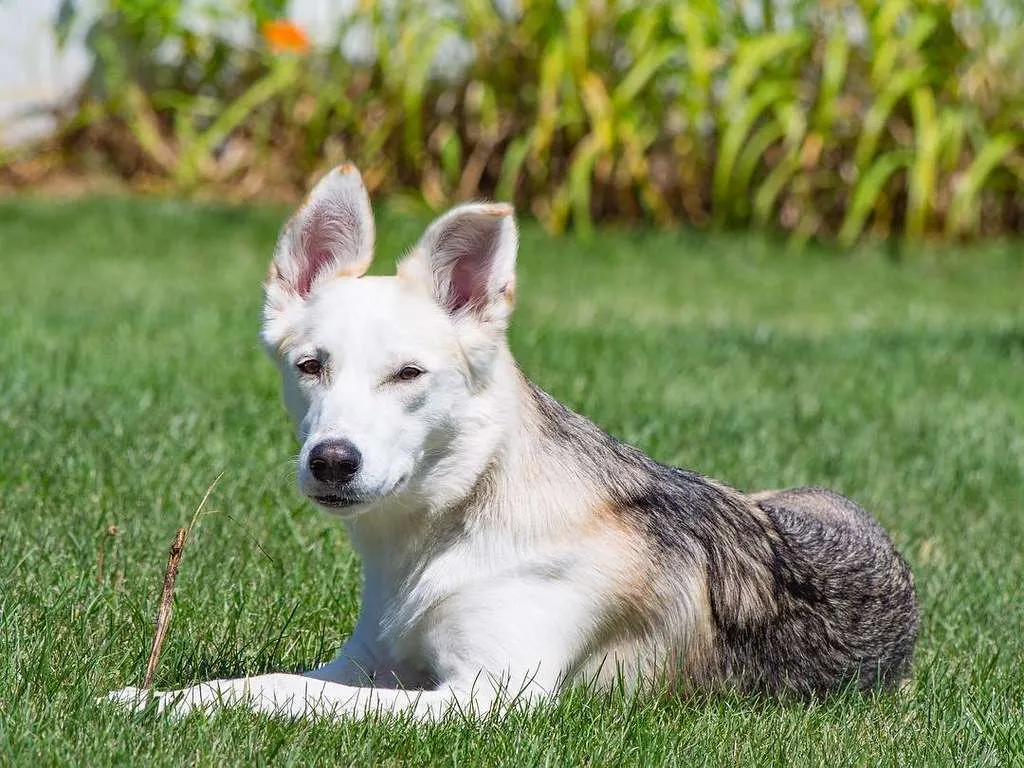 Statistics:
Labsky Overview:
The Labsky is a hybrid breed, resulting from crossbreeding between a Siberian Husky and a Labrador Retriever. Also known as Huskadors, these dogs bring together the best traits of two much-loved breeds, resulting in a loyal, intelligent, and energetic companion. Like their parent breeds, Labskies are sociable, friendly dogs with a high affinity for human companionship.
Labskies are known for their striking appearance, usually adopting the blue or multicolored eyes of the Husky parent and the solid, athletic build of the Labrador. Their coats can be a blend of their parents' colors and typically have the thick, double-layer coat associated with cold-weather breeds. Labskies are fast learners and are highly trainable, making them excellent working dogs or family pets.
Labsky Highlights:
One of the standout traits of the Labsky is their incredible energy and agility. Bred from two working-class breeds, the Labsky is not one to sit idle. Whether they're playing, working, or exercising, Labskies love to stay active and need regular exercise to stay healthy and happy. Their intelligence, coupled with their energy, can lead to mischief if they're not properly engaged, so mental stimulation is equally as important.
Labskies are also incredibly sociable, thriving in a family environment. They get along well with children and other pets, and their friendly nature makes them excellent companion animals. However, they don't do well with prolonged isolation and can develop separation anxiety if left alone for extended periods.
Labsky Evolution and History:
The Labsky is a relatively new breed, and their history isn't as well-documented as their parent breeds. The Labrador Retriever hails from Newfoundland, Canada, where they were used as a fisherman's helper, retrieving nets, ropes, and fish. The Siberian Husky originates from northeastern Asia, where they were bred by the Chukchi people for sled pulling and companionship in extreme cold.
The deliberate crossbreeding of these two breeds to create the Labsky started only a few decades ago in the United States, aimed at combining the Husky's endurance and striking looks with the Labrador's intelligence and versatility. While Labskies aren't yet recognized by major kennel clubs due to their hybrid status, they're increasingly popular as family and working dogs.
Labsky Size and Weight:
Labskies can vary significantly in size and weight, depending on which parent's genes are more dominant. They typically stand between 20-25 inches tall at the shoulder, with weight ranging from 40 to 60 pounds. Males are generally larger and heavier than females.
Despite their relatively medium size, Labskies are robust and muscular dogs. Their build is typically more reminiscent of the Labrador Retriever, characterized by a strong, athletic body designed for endurance and strength. However, they maintain the elegant and wolf-like facial features of the Siberian Husky, adding to their overall appeal.
Labsky Personality:
Labskies are known for their intelligent, friendly, and outgoing personalities. They're typically very eager to please their owners, which is a trait inherited from the Labrador side. These dogs are quick learners and respond well to positive reinforcement techniques.
Despite their friendly nature, Labskies can also be independent and may exhibit a stubborn streak inherited from their Husky parent. They're best suited to an owner who can provide firm, consistent leadership. Labskies are also incredibly active and playful and require plenty of daily exercise to keep their spirits high and prevent boredom.
The Adaptability of the Labsky:
Labskies are highly adaptable dogs. Thanks to their mixed lineage, they can thrive in various climates, although they prefer cooler environments due to their thick double coats. They're suited to both urban and rural living but need sufficient space to run around and expend their energy.
Despite their adaptability, Labskies do not do well when left alone for extended periods. They form strong bonds with their families and can develop separation anxiety if isolated. They require a dedicated owner who can spend plenty of time engaging with them both mentally and physically.
Labsky Temperament:
Labskies inherit the best of both their parent breeds when it comes to temperament. They're friendly and outgoing like Labradors and fiercely loyal like Huskies. They're also known for their playful and gentle nature, making them excellent companions for families with children.
Labskies are also alert and attentive, making them good watchdogs. However, they're generally too friendly to be considered guard dogs. They thrive on companionship and social interaction, so they're happiest when included in all aspects of family life.
Labsky Maintenance and Grooming:
As descendants of two breeds with dense double coats, Labskies require regular grooming to keep their fur healthy and manageable. They're seasonal shedders and may require daily brushing during these periods to remove loose fur and prevent matting.
Apart from coat care, Labskies require regular basic maintenance. This includes teeth brushing several times a week, nail trimming once or twice a month, and routine ear cleaning to prevent infection. It's also essential to monitor their diet and ensure they get regular exercise to maintain a healthy weight.
The Trainability of the Labsky:
Labskies are highly trainable dogs, thanks to their intelligence and eagerness to please. They respond well to positive reinforcement techniques and can learn a wide range of commands and tricks. However, they can also be independent and stubborn at times, so training should start early and be consistent.
Training a Labsky requires patience, as their energy and playful nature can sometimes get in the way of focus. It's recommended to keep training sessions short, engaging, and fun. Socialization from a young age is also crucial to ensure they grow into well-rounded, friendly adult dogs.
Exercise Needs of the Labsky:
Being a high-energy breed, Labskies require a substantial amount of daily exercise to stay fit and happy. A combination of walks, playtime, and other physical activities like swimming or fetch should be part of their routine.
Without enough exercise, Labskies can become bored and destructive. They're also prone to obesity if they're not adequately exercised. It's worth noting that their exercise needs can vary depending on the individual dog and their age, but generally, these dogs need an active lifestyle to stay healthy.
Labsky Health:
In general, Labskies are healthy dogs, but they can be prone to certain health conditions common to their parent breeds. Some potential health issues include:
Labsky Care:
Caring for a Labsky involves more than just meeting their physical needs. These dogs also require plenty of mental stimulation due to their intelligence. Puzzle toys, training sessions, and interactive games can help keep a Labsky's mind sharp.
Labskies are also social animals and need regular interaction with their human family members. They do best in homes where they're included in daily activities and have plenty of opportunities for socialization.
Labsky Feeding:
Labskies should be fed high-quality dog food that's appropriate for their age, size, and activity level. Their diet should be rich in protein to support their high energy levels, with a balanced mix of fruits, vegetables, and grains for overall health.
It's important to monitor a Labsky's food intake to prevent overeating and obesity. Regular meals rather than free feeding is recommended, with the total daily amount divided into two meals. Treats should be used sparingly and factor into the dog's daily caloric intake.
Labsky Coat Color and Grooming:
Labskies have a dense double coat that can come in various colors, including black, brown, white, cream, and gray, or a mix of these. Their coats are designed to protect them in cold weather, but they also shed significantly, especially during the spring and fall.
Regular brushing is essential to keep a Labsky's coat in good condition and manage shedding. During peak shedding seasons, daily brushing may be necessary. Despite their heavy shedding, Labskies only require occasional baths unless they get particularly dirty.
Labsky and Children:
Labskies make wonderful family pets and generally get along well with children. They're known for their playful, gentle nature and their tolerance of the loud noises and sudden movements that children can make.
However, as with any breed, it's important to teach children how to approach and touch dogs, and supervise any interactions between dogs and young children to prevent biting or ear-pulling from either side. It's also important to teach your Labsky to behave appropriately around children.
Labsky and Other Pets:
Labskies are generally sociable and can get along well with other pets, especially if they're raised together from a young age. However, due to their high prey drive inherited from the Husky parent, they might not do well with small pets like rodents or rabbits.
Each Labsky is an individual, and their behavior around other pets can depend on factors like their training, socialization, and individual personality. Early socialization and positive introductions can go a long way in helping a Labsky live harmoniously with other pets.
Similar Dogs:
Labsky FAQs (Frequently Asked Questions)
Read more